About Jennifer
The best counselors in San Diego are those that have gone through trials and tribulations- then to survive, overcome, and teach others how to do the same. I grew up as a caretaker for my single mother who suffered from a fatal neurocognitive disease. She committed suicide when I only fifteen after struggling with dementia, chorea, and other debilitating symptoms.
This initially motivated me to get through college to become a special education teacher working with students in public middle schools. I absolutely loved my students; however, being a teacher prevented me from becoming closer with each student that needed a role model- an adult they could trust and turn to for help.
With the limitations placed on school teachers, I found this dilemma very frustrating. Therefore, I decided to obtain another degree in mental health counseling in order for me to open up my own practice. As a counselor, I am now able to establish deeper relationships with my clients, both children and adults. I strive everyday to help my clients grow in every aspect of their lives.
Regardless of their circumstances, I want my clients to recognize their true potential, their capacity to become, and achieve anything. Every time I help a person who is struggling with suicide, medical illnesses, or mental health issues- I reflect upon my own mother and reassured that being a counselor is what God had planned for me all along.
MY MISSION
To promote behavioral health and wellness for my clients to obtain a high quality of life within themselves, their family, and their community. I work with a wide range of emotional and behavioral issues providing services that include assessment, short-term solution focused interventions, consultation with other providers, and crisis intervention. If you are feeling stuck, stressed from life circumstances, or having trouble adjusting to new transitions, then please contact me. I am here for you!
EDUCATION & BACKGROUND
Master's degree in Special Education at the University of Nevada Las Vegas
Master's degree in Mental Health Counseling at Walden University.
Five years of teaching adolescent age students with special needs.
Currently working as Clinical Counseling Supervisor at the Pregnancy Resource Center in Vista, California as well as my private practice.
CERTIFICATIONS
EMDR Specialist
Play and Sand-tray Therapist under the ACAC division
Accumulation of clinical experience in a variety of settings:
Non-profit community agencies in Las Vegas, Nevada and NAMI for individual patients and their families seeking out mental health assistance.
About Yesenia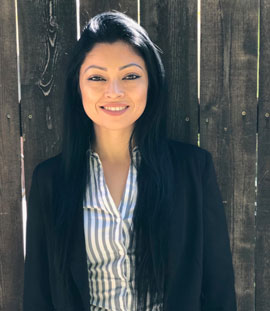 As a Mental Health Counselor in San Diego, I have the experience and passion of working with families in a clinical and school setting: Adults, tweens, teens, prenatal patients, women, children and children with special
needs. I specialize in treating Trauma, depression, Anxiety, Children diagnosed with special needs, post-partum depression, play therapy, Stages of death, Marital/Divorce, Spiritual Counseling, bullying and low self-esteem.
From having a mother's perspective with two young children, I have real life hands on experience. I'm able to relate to families not only as a parent but as a parent having a son with autism. I strive to be an advocate for all children and families with disabilities so that they will live a satisfying and productive life within their community.
I ensure all services are based on each client's needs and met to maximize their independence and full potential. I'm honored to have the opportunity to help empower individuals to live an abundant, well-balance, healthy lifestyle. I am also a Christian and can offer Christian Counseling to strengthen spiritual awareness, lead with prayer and envelop bible scriptures along your pathway.
I look forward to meeting you soon,
Yesenia Ramirez